Mail Boss is a free service that allows you to create and manage recurring emails from any mail client. If you use Gmail and a Chromium-based browser (Chrome, Edge, Brave, etc.), the simplest way to use the service is to click the "GMAIL OPTIONS" button at the top of this page and then click the "INSTALL EXTENSION" button and follow the instructions. After the extension is installed, a new "Schedule repeating" option will be added to the Gmail web client as shown here: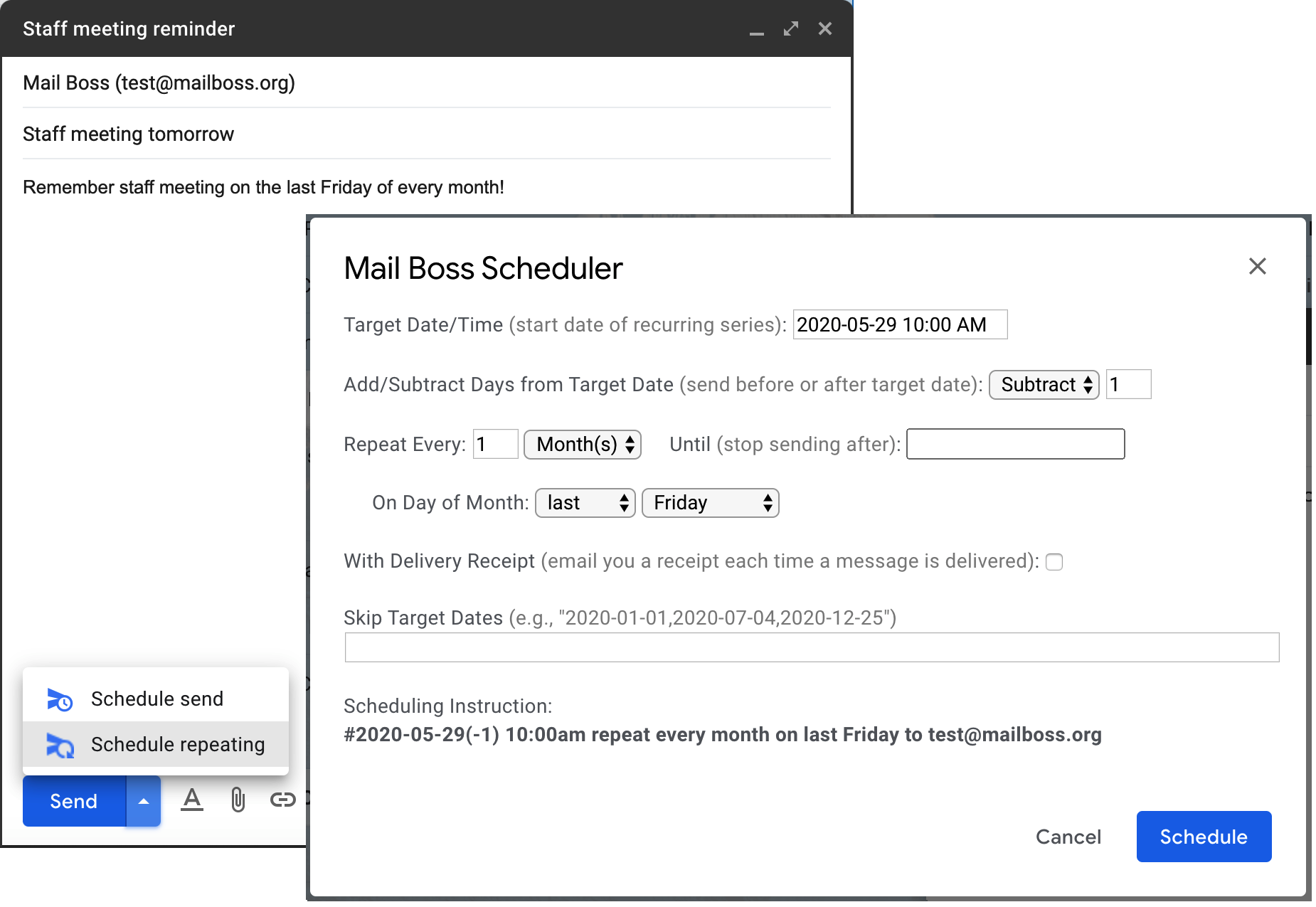 NOTE: All scheduled messages are stored on Mail Boss servers so you won't find them in any of your mail client's folders. For information about viewing, editing, and deleting your scheduled messages, see the section titled Manage Scheduled Messages below.
If you're not a Gmail or Chrome/Edge user, you can still use the service. To get started, click the "SIGN UP" button at the top of this page and follow the instructions. After completing the sign-up process, you'll receive a unique Mail Boss email address to which you can send messages that are to be scheduled for later delivery. We recommend adding this email address to your mail client's contact list. Next, to schedule a new recurring email, create the message in your mail client as usual but send it to your Mail Boss contact with a special "scheduling instruction" in the subject line indicating what time, how often, and to whom the email should be sent. The scheduling instruction must come at the end of the subject and start with a hashtag (#) like this:
Subject: Happy New Year! #2020-01-01 9:00am repeat every year to bob@domain.com
This subject line indicates that a message with the subject "Happy New Year!" should be delivered to bob@domain.com on January 1, 2020 at 9am and repeated at the same time every year (dates are in YYYY-MM-DD format). Of course, the scheduling instruction will be removed from the subject line when the message is delivered. And though you can enter the scheduling instruction manually, it's much simpler to navigate to this page and click the "HELPER" link at the top. The Helper application makes creating a scheduling instruction a simple point and click process.
In addition to scheduling new messages, you can also send commands like "#list", "#update", and "#delete" to your Mail Boss email address in order to manage your scheduled messages directly from your email client. See the section titled Manage Scheduled Messages below for more information.